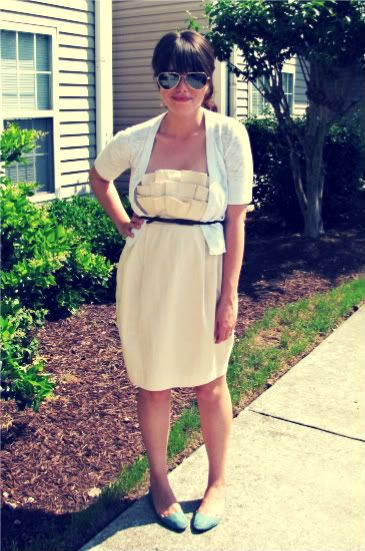 Sweater: Target, Dress: H&M, Shoes: Urban Outfitters, Belt: Modcloth
The other day I looked on Netflix to see if they had
Easter Parade
on instant watch, you know to get in the spirit, but they didn't. However,
Meet Me in St. Louis
was available so I watched that instead. Judy Garland is amazing.
See that bucket up there? That is what the Easter Bunny brings to grown ups. Or at least, that's what we bring to the people hosting us for Easter lunch. The other couple,
Pete and Lindsey, and their son, William,
are also from the West Coast, up in Washington. Seeing as Easter, a great holiday, is not plane-ticket-home worthy, they invited us over for lunch which was great. We also spent Thanksgiving with them and I must say it is great to have people to spend these holidays with. Oh, and she made those cupcakes from scratch and they were amazing. Happy Easter! He is risen indeed!