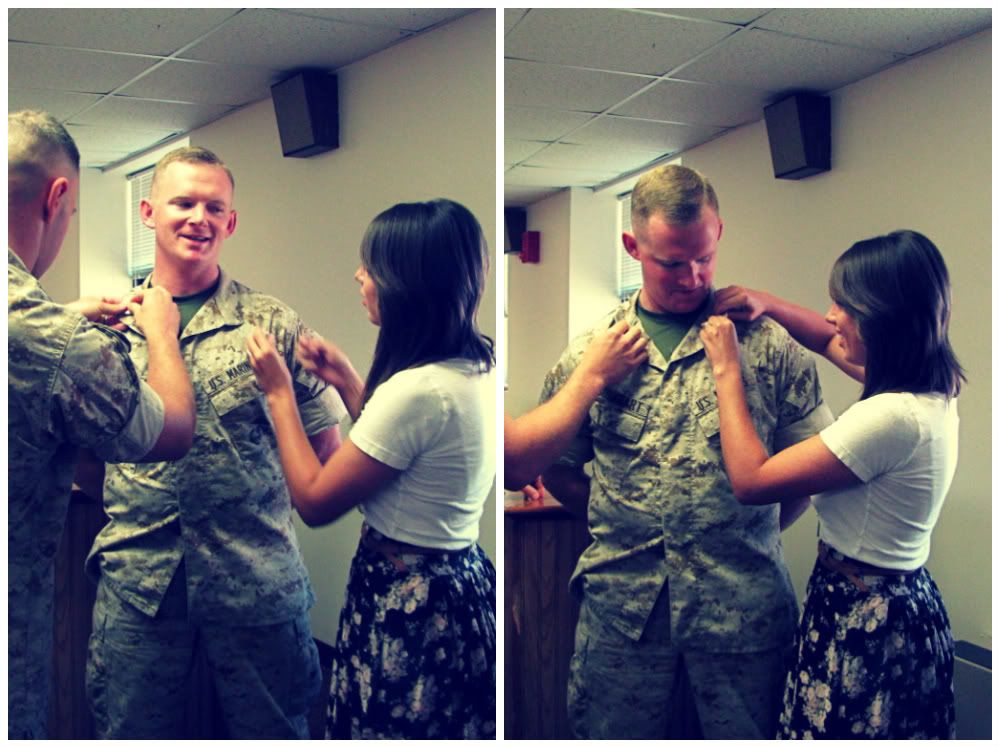 I may have pinned his bar on the wrong way and had to do it over.




Dan got promoted to Captain! Which means he will no longer be referred to as "Lieutenant Dan"

(insert Forrest Gump voice)

.
Well, people could still call him that but they would be wrong. He's a Captain.
He's already made me swear to refrain from standing on our chairs and shouting "Oh Captain, My Captain." Dead Poet's Society was one of our Hurricane Weekend Movies so it was still fresh in our minds. But, while he has made me swear to not refer to him as such, you have made no such oath. So, next time you see him go ahead and make him feel like Robin Williams. I think he'll enjoy it more than he knows.
They ended up do the ceremony fairly early in the morning so I got to race over to Jacksonville to be there for the ceremony and pin him and then race back to Wilmington for class, which I was late for, but it was worth it. I'm pretty proud of him.
The guy performing the ceremony, that's Dan's boss, he could not say enough good things about Daniel. The fact that, as a Lieutenant, he has had three acquittals was a pretty big deal. Apparently, guys who have been doing this for way longer never even attempt it. I mean, I know how amazing this guy is, but it's always nice to hear someone else thinks so, too.
Congratulations, Daniel! I am so proud of you!